Wednesday, January 16, 2019 Next Date
12:30 - 3:00 pm
All Saints Parish Hall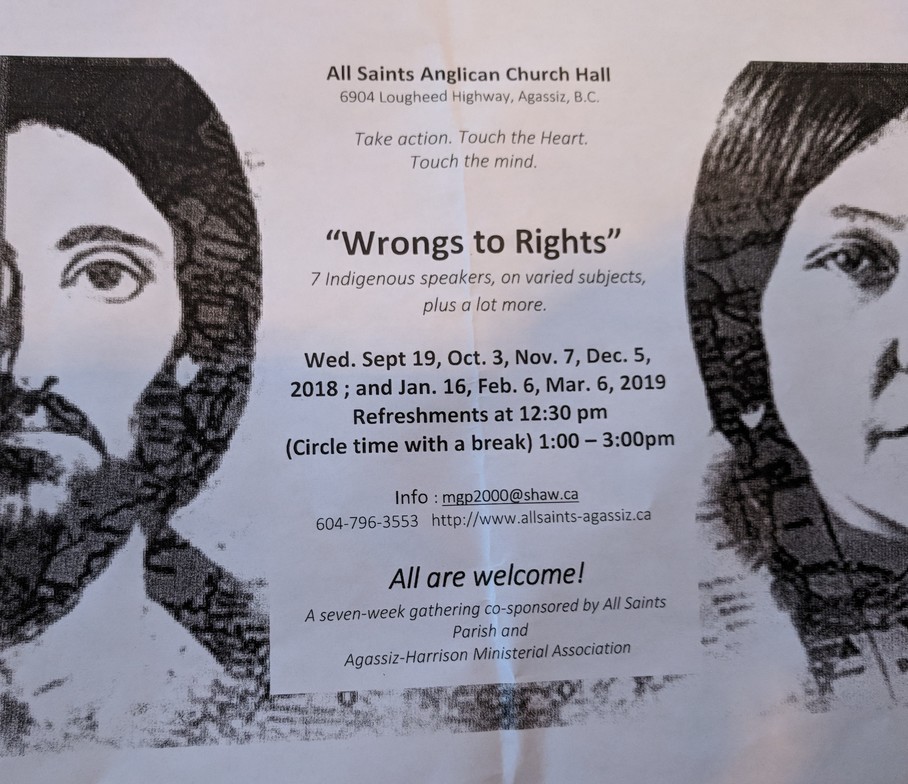 The next "WRONGS TO RIGHTS" Gathering Circle will be held on Wed. January 16th, 2019 in the All Saints Parish Hall. We gather for refreshments at 12:30pm and join together in the Circle for further fellowship from 1:00pm - 3:00pm
GUEST SPEAKER for January 16th will be Byron Flekke ( Lillouette First Nation & Civil Servant )
Byron will talk about Reconciliation and how the Census of Canada 2021 will play it's part.
Each Gathering is complete in itself, so everyone is welcome whenever they are able to attend. The coffee/teapots will be ready at noon!!
Hope to see you there(feel free to bring some goodies to share)
EVERYONE IS WELCOME - PLEASE JOIN US
For more information about the series and additional gathering dates please see the file below.
*See (below) to read the article "Ending Settler Colonialism" written by Keith Thor Carlson, historian at Sto:lo Nation and author of recent articles on aspects of Sto:lo history.