Wednesday, January 16, 2019 Next Date
12:30 - 3:00 pm
All Saints Parish Hall
This event has already occurred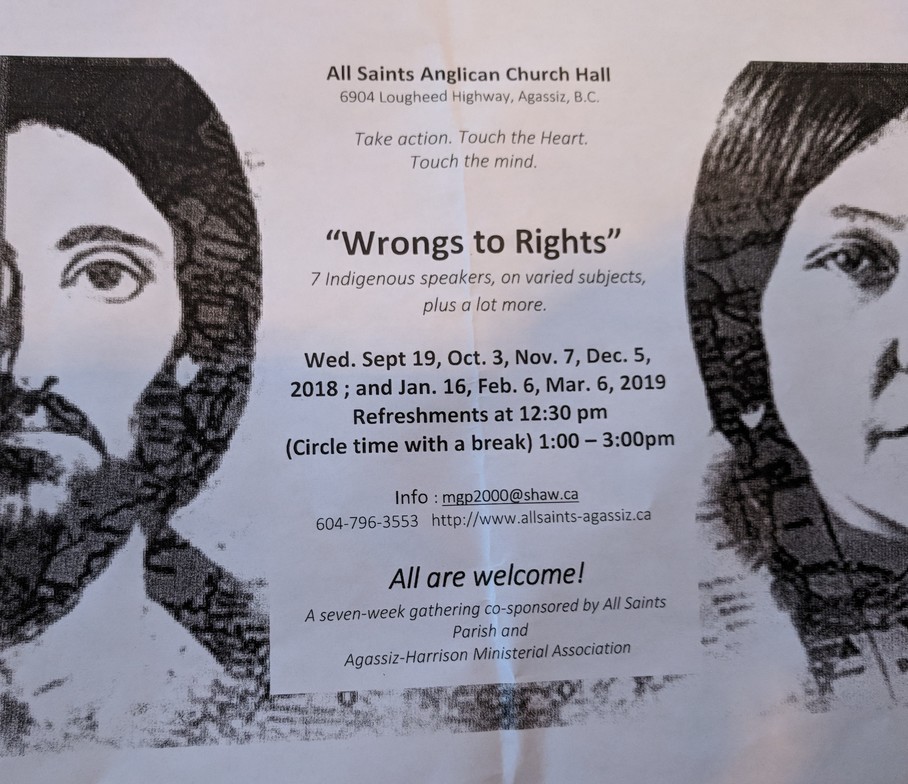 The next 'Wrongs to Rights' meet in the All Saints Hall on Wednesday, February 6th at 12:30 pm for refreshments and fellowship, and then gather in a circle from 1:00 – 3:00 pm, for discussion - sometimes guest speakers join us. The remainder of the 3rd season is as follows:
Wed. Feb. 6th: Grand Chief Clarence 'Kat' Pennier from Sq'ewlets First Nation has some questions we can ponder and discuss.
Wed. Mar. 6th: We are hoping Sonny McHalsie will join us to continue sharing some of his knowledge and wisdom on "Land & Resources".
Wed. Apr. 3rd: Sq'ewlets First Nation Elders have invited us to join them again for lunch and sharing. (More details in March)
Wed. May 1st: It will be our last gathering of this 3rd season. Details to follow.
Each Gathering is complete in itself, so everyone is welcome whenever they are able to attend. The coffee/teapots will be ready at noon!!
Hope to see you there(feel free to bring some goodies to share)
EVERYONE IS WELCOME - PLEASE JOIN US
For more information about the series and additional gathering dates please see the file below.
*See (below) to read the article "Ending Settler Colonialism" written by Keith Thor Carlson, historian at Sto:lo Nation and author of recent articles on aspects of Sto:lo history.